A couple of weeks ago, we published a blog article, Coronavirus Knocked Us All On Our Asses, and coronavirus really did turn everyone's world upside down. However, at Find A Wrench, talk to a lot of technicians and shops, and we see a lot of data. We felt it was time to give an update speaking to what we are seeing in the industry now.
When COVID-19 first started picking up in the states, it was a scary time for shops. We saw many shops layoff some really great technicians and go on hiring freezes. They did what they needed to do to make sure their shop survived coming out of COVID-19.
As a company that connects shops with technicians, Find A Wrench also felt the pain during this time period:
The number of applicants we received surged as technicians lost their jobs.
We saw a drop in our website traffic and inbound leads.
Some shops dropped off our recruiting programs.
New sales plummeted.
Now, about two months later, we're happy to say we are starting to see things turn around.
Shops are Lifting Their Hiring Freezes
With shops deemed an essential business, and as more states begin to loosen restrictions on their stay at home orders, shops are starting to get back to business as usual. Now, let's be clear here. "Business as usual" post-COVID-19 is going to take on a different meaning than it did before the coronavirus outbreak. What this means is everyone is going to have to adapt to and establish a "new normal" — especially service businesses.
We're seeing shops adapt to this new normal, and we're even starting to see shops hiring again. One thing that certainly hasn't changed after coronavirus is the shortage of technicians.
Below is what we are seeing happen at Find A Wrench.
Number of Applicants is Going Down
After the COVID-19 outbreak, shops started laying off their technicians and cutting hours. Not surprisingly, we saw a spike in the number of applications we were receiving for the open technician positions we were hiring for. In the past two weeks, we've seen the number of applicants return back to a normal number.
What this means: There was a very short window of opportunity for shops to snag a qualified technician who was suddenly out of work due to COVID-19. Now that our number of applicants has returned back to normal, we're seeing the same technician shortage our industry has been dealing with for years. There's still good techs out there, but you have to work harder to find them again.
Our Website Traffic is Increasing

The majority of people who visit the Find A Wrench website are shops who are looking to hire techs. As you can see, our website traffic dropped significantly throughout the month of March, started to even out in April, and is finally starting to go back up in May. We aren't quite back to where we were at, but we like the trend we've been seeing over the last few weeks.
Website Traffic — Week-Over-Week Growth:
April 26 – May 2: +44.4%
May 3 – 16: +15.8%
What this means: Shops are looking for ways to recruit and hire technicians again.
Our Inbound Leads are Increasing
Inbound leads are shops that reach out to us (i.e., email, call, fill out a contact form on our website, etc.) and want to learn about our services.
Going hand in hand with our website traffic, we also saw a significant drop in the number of inbound leads we received during the month of March. Since April, we've been seeing our inbound leads increase. Again, we aren't where we were at before COVID-19, but we are heading in that direction.
What this means: Not only are shops looking to hire technicians, they're considering paying for services to help them find technicians.
Our Sales are Increasing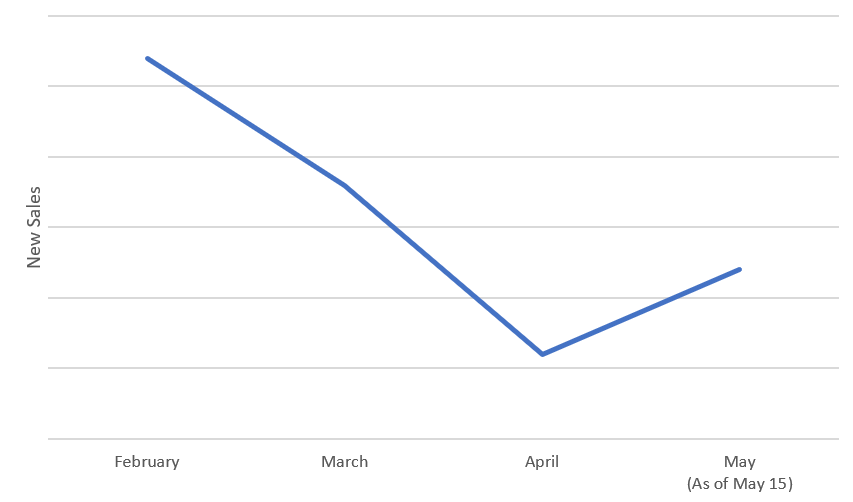 In addition to seeing more activity on the marketing side, we are also seeing more activity on the sales side. The number of new shops signing up for our services has remained pretty steady during the coronavirus outbreak, but as you can see we've seen a huge increase in May.
What this means: Shops need technicians, and they're willing to pay for outside services to help them find those techs.
We Aren't Out of the Woods Yet
While we're starting to see things turn around, we aren't out of the woods yet. The urgency to find and hire qualified technicians is back for most shops — as it should be. After a brief hiatus, we are already back to dealing with a technician shortage that we all know is not going away anytime soon.