How to Write an Automotive Technician Job Posting
Finding automotive technicians in today's job market is no easy task. There's no room for error — shops and dealerships need to be sure they're making their best impression from the second a candidate clicks on their job posting.
Unfortunately, this is where a lot of employers are dropping the ball.
Being a recruiter for shops and dealerships, we see (and write) a lot of technician job postings. Not to mention, we run a job board for techs, so we know which job postings are getting the most clicks and applications.
Don't worry — we want to help you out!
We've put together a list of eight tips for writing automotive technician job postings that will bring in qualified applicants.
8 Tips for Creating Automotive Technician Job Postings
1. Format matters.
Let's be serious — no one wants (and is going) to read a giant paragraph of text. Your job posting should be organized and pretty. (Yes, pretty.) Be sure you're utilizing headers, spacing, bulleted lists, and links.
Sample job posting layout: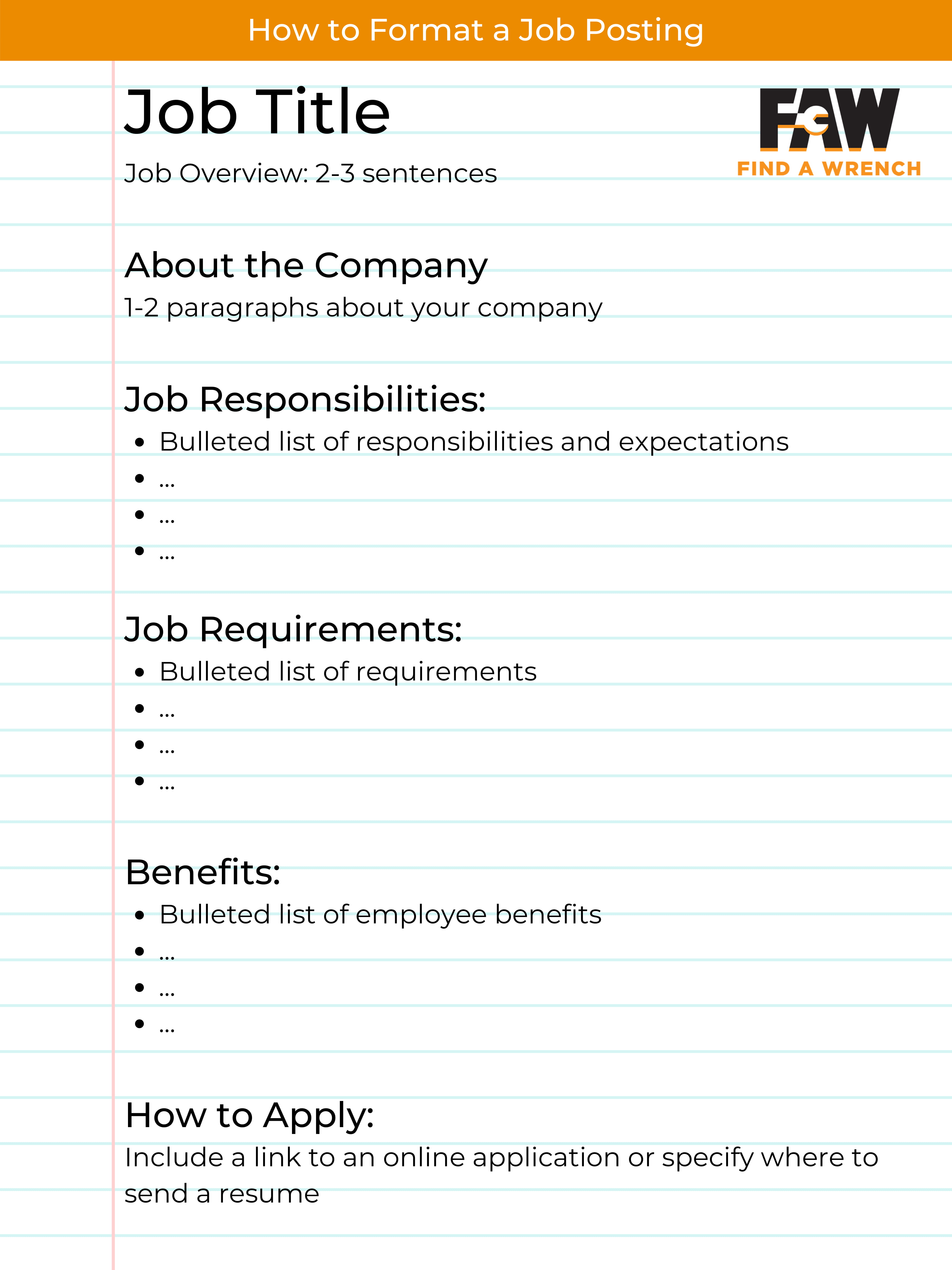 2. Job titles need to be searchable.
In order for job seekers to find your job posting, the job title needs to match up with the job title they are searching. If a tech is looking for "automotive technician," but your job title is "experienced rockstar mechanic" then your job posting is not going to show up in their search results. Keep your job titles relevant and details in the description.
3. Sell your company.
A job posting is an advertisement. You need to share information that will make candidates want to apply to work at your shop. Share your shop's story, what makes you unique, and why employees love working there.
4. List out job responsibilities… ALL of them.
Candidates need to know exactly what the expectations and duties in order to know if they are a good fit for the position. Springing unexpected responsibilities on a prospective employee gives the impression that there is a lack of transparency at your shop.
5. Include all required qualifications.
Chances are you're going to need to filter through quite a few unqualified applicants. However, one way to deter some of those people from applying is by listing all the qualifications required for the position on the job posting, including education, training, certifications, and years of experience.
6. Don't skip the pay range.
There's no getting around it – most candidates are going to base their decision on pay. It doesn't make sense for a candidate to waste their time applying for a position that isn't going to pay them what they need. In the same regards, there's no use wasting your own time filtering though candidates who want more than you can compensate.
7. It's all about the benefits.
Not only is it important to include benefits such as pay range, health insurance, retirement benefits, and paid time off, but be sure not to leave out any perks your shop offers. Some examples could include:
Sign-on bonus
Air conditioned shop
Tool allowance
Uniforms provided
Training/certification reimbursements
8. Make it easy to apply.
If you want applicants to apply via email, but sure to tell them exactly what to send. If you want applicants to apply on your website, make sure the online application process is short and user-friendly. Including too many steps in the application process will deter even the most qualified candidates from applying.
Sample Automotive Technician Job Posting
Below is an example of a job posting for an automotive technician.
{{cta('27a87b1d-cd13-4ace-ad1d-8285f1273baf')}}